DeployGate SDK for iOS
To use advanced feature of DeployGate, you need to integrate SDK into your app.
Just adding single line of code and it's done.
When is the SDK needed?
DeployGate features with and without SDK
First note that you may use basic features of DeployGate without installing the SDK. Once you drop your current app package onto DeployGate, you may download it through DeployGate immediately, watch how installation is going on the dashboard and further app updates can also be pushed over the air.
Installing the DeployGate SDK into your project enables powerful features, such as crash reporting, remote Logging, update notification and user authentication.
Since installing the DeployGate SDK is fairly simple, just add the iOS SDK file, insert one line to your application and it's done. We highly recommend you to use it.
| | without SDK | with SDK |
| --- | --- | --- |
| Over the Air Deploy | | |
| Download Report | | |
| Get Update Notification | | |
| Crash Report | | |
| App Boot Reporting | | |
| User Authorization | | |
| Remote Logging | | |
Install
Install SDK to Your Project
Install from CocoaPods
---
Add to Podfile
Add the following line to Podfile and install
  pod "DeployGateSDK"
Under your project directory in command line:
  pod install
---
Download SDK Package And Install
---
1. Download DeployGate SDK
---
2. Unzip it and copy DeployGateSDK-X.X.X.embeddedframework to your project's Frameworks directory.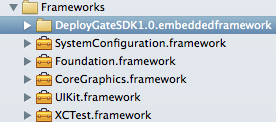 ---
3. If you are not using SystemConfiguration.framework, please add it first.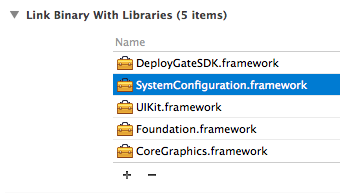 Usage
---
1. Incorporate into your project's AppDelegate file
Open the AppDelegate class which contains UIApplicationDelegate protocol in Xcode. Import DeployGateSDK/DeployGateSDK.h file and add the following line to application:didFinishLaunchingWithOptions:method.
[[DeployGateSDK sharedInstance] launchApplicationWithAuthor:@"YOUR_USER_NAME" key:@"[target_application_api_key]"];
Actual YOUR_USER_NAME / YOUR_API_KEY are shown after login.
Please replace the API Key for each application to [target_application_api_key]. API Key is you can check in the detailed page of each application.
---
2. That's it!
Let's build and upload your app to DeployGate. Now you are ready to receive boot and crash report. If you want to use User Authorization and so on, please continue proceeding to next section.
Remote Log
DeployGate provides Remote Log mechanism. In order to replace the default NSLog, please add the following line to precompiled header (.pch) file.
#define NSLog DGSLog
Below is an example for logging class name, method name and line number at the same time.
#define NSLog(__FORMAT__, ...) DGSLog((@"%s [Line %d] " __FORMAT__), __PRETTY_FUNCTION__, __LINE__, ##__VA_ARGS__)
DeployGate shows 'Remote Log' on 'Timeline' in a page for application you distributed. DeployGateSDK stores logs in an internal file and send it at the next launch.
Crash Report
DeployGate provides Crash Report mechanism. DeployGate iOS SDK uses PLCrashReporter. DeployGateSDK stores crash report in an internal file and send it at the next launch. Currently DeployGate doesn't symbolicate the crashreport. We will provide symbolication on deploygate.com in the future.
How to Symbolication
---
1. Get Crash Report
Send Crash Report automatically next launching app.

---
You can download the crashreport on each device page.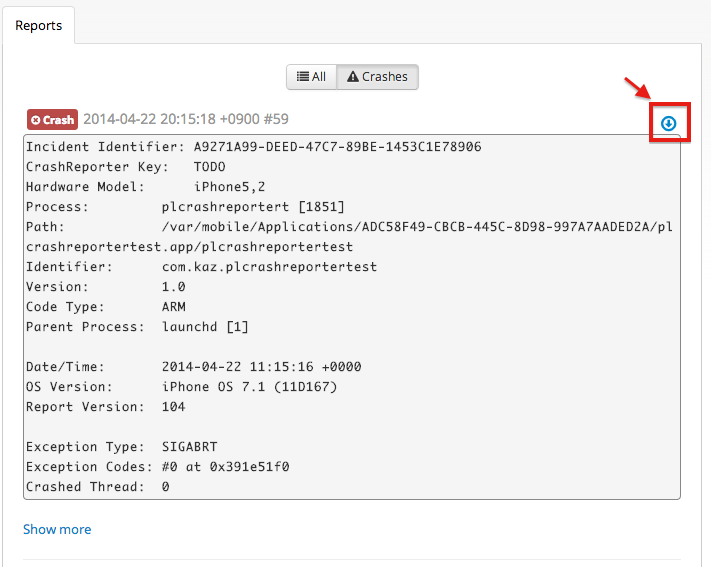 ---
---
2. Prepare .dSYM file and symbolicatecrash
Get dSYM file from Organizer -> Archive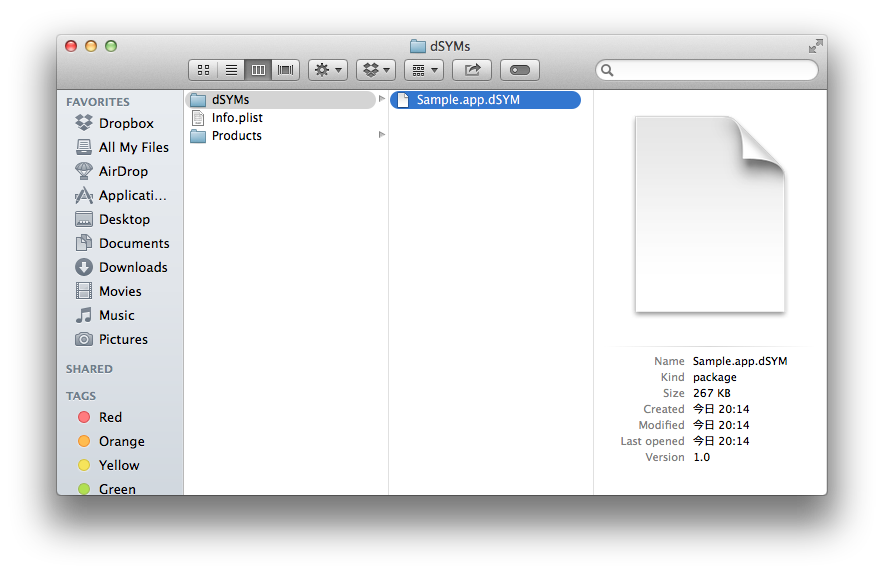 ---
Configure the path of 'symbolicatecrash'. 'symbolicatecrash' is on the following directory in Xcode 6.
/Applications/Xcode.app/Contents/SharedFrameworks/DTDeviceKitBase.framework/Versions/A/Resources/symbolicatecrash
In Xcode 5 or earlier.
/Applications/Xcode.app/Contents/Developer/Platforms/iPhoneOS.platform/Developer/Library/PrivateFrameworks/DTDeviceKitBase.framework/Versions/A/Resources/symbolicatecrash
---
If you get the following error, You need to set 'DEVELOPER_DIR'.
Error: "DEVELOPER_DIR" is not defined at symbolicatecrash line 60.
export DEVELOPER_DIR="/Applications/Xcode.app/Contents/Developer/"
---
3. Execute Symbolicatecrash
execute symbolicatecrash to the crashreport and dSYM file.
symbolicatecrash [CRASH_REPORT] [DSYM_FILE]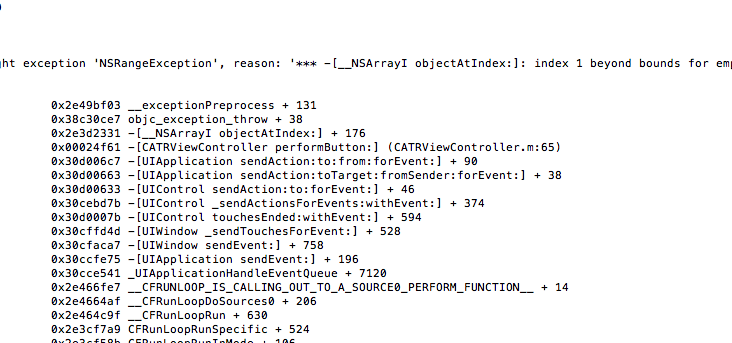 ---